Show:
Today's Messages
::
Unanswered Messages
::
Polls
::
Message Navigator
50th Anniversary Pocket Watch
Tue, 27 December 2022 18:53
Model name : 50th Anniversary
Type : Pocket watch
Period/date : 1924 (The movement was made in 1924, but it is unclear when this watch was cased and sold)
Gender : Men's

Case Maker : Gruen Cincinnati
Case Material : 18kt white gold
Case Serial : 1072311
Case Style no : none
Case Inscription (inside caseback): "Made Especially for Gilbert J Easton"

Caliber : See below
Movement Maker : Gruen
Movement Serial: 204

Movement details from Priceless Possessions of A Few by Fuller.



17-linge (approximately 10-size) open face, 23 jewels (21 extra quality ruby jewels, plus two faceted diamond cap jewels over escape wheel and balance wheel pivots on upper plates)

12kt gold plates (total 19 penny weight), individually engraved in floral relief pattern

Steel cup in each counter-bored hole for plate screws

Follow-up die used to slightly bevel around edge of spoke and inside rim of wheels

Gold plated train wheels

Chronometer style balance with solid gold screws

Detachable staff which can be removed without disturbing relationship of balance hairspring, collet, and roller jewel

Jewel pin fastened in balance arm with a bearing twice the length of the usual watch, making it doubly secure against coming loose

Double steel roller

Hand finished visible steel escapement with posing arms

Patent micrometic regulator of continuous equal action

Meantime adjusting gold screws

True isochronal and Breguet hairspring

Finest Swiss mainspring of lasting quality and great elasticity made by hand-rubbing so that the motive power is practically constant whether watch is fully wound or nearly run down

Patented American pendant-set device of very few pieces

Geneva style stop works and cut-away barrel bridges

Eight adjustments to all positions, isochronism and temperature

Fine Silver dial

Patented inverted (Verithin) wheel train construction

Extra finely finished in all details

,
,
1920's | 10 comments
Long service box 2 part brown
Wed, 30 November 2022 20:34
Description
Fake leather paper and wood box. Greek golden (faded) rim. Gruen service crest inside. Exists of two parts, bottom and lid. Inside the case there is a black velvet removable holder with two metal holders, wit a foldable part for presentation.

Period: 1920-1930
Watch type: men wrist watch (strap, f.e. Quadron)
Size: 21.5cm wide, 2cm high, 4.8 cm deep.
Inventor:unknown
Patents: pat. Mar. 10. 1925 (USD66772 Harold R Haerr)

Box maker. Unkown.


1920s | 0 comments
E. Gubelin Lucerne
Marked DG&S on the movement; Fri, 04 November 2022 17:17
Here is an interesting one currently on the swamp. We've always seen these Gubelin's and the relationship to the guilds but this one has the Gruen markings to go with it.




Cheers!
Watches from the Guild | 3 comments
Gruen Guild Watch Service Box - Canada
1933; Sun, 16 October 2022 18:56
Period: 1933
Watch type: tbd
Size: tbd
Inventor: na
Patents: na

Time for me to share a box. But going for fastest post ever.
Side photo reads " 704s Rec'd Dec 30, 1933"






1930s | 8 comments
Strap 555 – Curvex 14K
Sat, 30 July 2022 14:00
Model name: yet unknown
Type: Curvex
Period/date: 1948
Gender: Male

Case Maker: William B. Ogush, Inc., New York
Case Material: 14K yellow gold
Case Serial: U25393
Case Style no: 440 - 584

Caliber: 440
Movement Maker: Gruen
Movement Serial: B 7499

Bracelet: none

Other info:





This model is quite flat – unusual for a Curvex:





Inside there are two trademarks of William B. Ogush, Inc. (WBO in the following), the well-known WBO logo




and the lesser known "two diamonds" trademark of WBO:




I guess, the "two diamonds" brand was used to mark the case material – in this case, 14K gold.
A good abstract of WBO's history was published in the "Cincinnati Enquirer" of June 28, 1951:




There were two dial variants – the one shown with 12 numerals and a variation with markers and numerals (2-4-8-10-12):

https://gruen.watch/?product=gruen-curvex-440-584



1940's | 4 comments
Gruen Superior Verithin (LV)
Tue, 19 July 2022 17:59
Model name: Gruen Superior Verithin
Type: Pocket Watch
Period/date: 1900-1910, perhaps 1906-1907
Gender: Men's

Case Maker: Wadsworth
Case Material: 25 yr Gold Filled Amer. Made
Case Serial: 308892
Case Style no: n/a

Caliber: LV2, 16j, with swan neck regulator
Movement Maker: Gruen (unsigned)
Movement Serial: 330600 ?

Other info: I am not usually a pocket watch guy, but the Superior Verithin movement is an odd bird. Looking back, I've seen exactly 6. None captured on the forum so far (I think), and only a few oblique references. I'm hoping folks may have seen more & have more info. Only seller pics for now (with permission).


1910's and prior | 18 comments
The bat box
Tue, 19 July 2022 11:57
Now this can be called an innovative and unique watch box. Wonder if they made just one...

A solid gold autowind presented to Cincinnati Redlegs slugger Ted Kluszewski in November 1955. This "box" should be worth some money...


1950s | 2 comments
Unknown early ladies' caliber
Mon, 18 July 2022 02:44
Model name: --
Type: pocket watch
Period/date: c. 1910s
Gender: women

Caliber: unknown
Size: 10''' (22.5mm)
Jewel count: 16 or (more likely) 17
Movement Maker: unknown, possibly LeCoultre
Movement Serial: 7001
Movement markings: Gruen Adjusted Swiss




Condition: not running, lower balance pivot is mushroomed
1910's and prior | 6 comments
Unknown Sterling silver Mantouche ca1920
Cal 861 Large Cartouche aka Rectangular Wrist Watch; Wed, 06 July 2022 03:44
Model name: Unknown
Type: Large Cartouche / Rectangular Wrist Watch
Period/date: 1919-1922, likely 1920
Gender: Female?

Case Maker: Unmarked
Case Material: 0.935 sterling silver
Case Serial: 2931
Case Style no: n/a

Caliber: 861
Movement Maker: Factory L / ebauche or finished movement by Charles Hahn (Landeron)
Movement Serial: none on dial side; last 2 digits on parts are 89

Bracelet: aftermarket extensible link bracelet, with 1929 patent

Dial Maker: Albert (Albrecht) Beyeler-Favre, Geneve
Dial material: sterling

Other info: case is hinged at top and was assayed in Geneva. Last 2 digits of case number stamped on inside bezel corner, along with many hand inscriptions. Refinished dial. A clean, bright white dial was the first indication of trouble—and the print that is a later Gruen layout only makes it more difficult to ID. It should be fantasy script, I'm thinking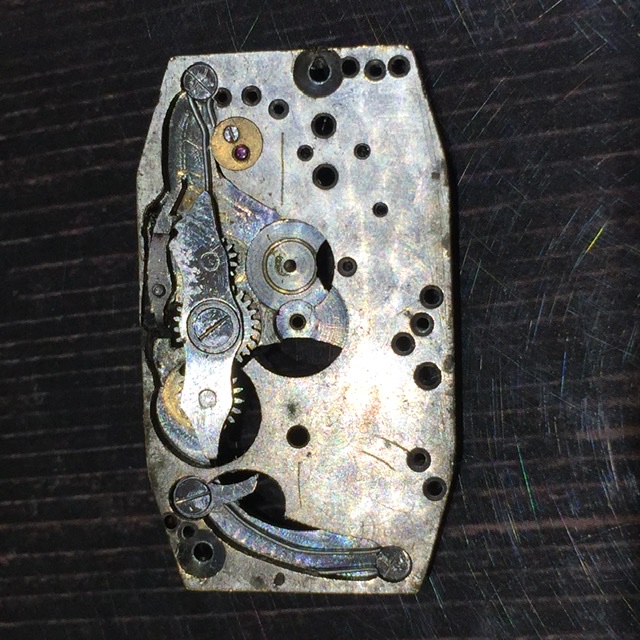 1920's | 6 comments
Gruen Strap 475 400C/526 Marcus
Thu, 30 June 2022 18:37
Model name: Marcus
Type: Strap 475
Period/date: c.1944
Gender: M

Case Maker: Wadsworth
Case Material: Sterling Rose/Coral 10K.GOLD FILLED
Case Serial: G475716
Case Style no: 526

Caliber: 400C
Movement Maker: Gruen
Movement Serial: 2-593143

Bracelet: Kreisler Sterling Rose/Coral 10K GF "Basketweave"

Other info: Crystal W-C 4MA247[175], Bezel 27.6 x 20.7 x 5.1mm, Lug-to-lug 39mm, Lug Width 14mm.



1940's | 1 comment
Pages (41): [1 2 3 4 5 6 7 8 9 10 11 12 13 14 15 › »]
Current Time: Sat Jan 28 16:43:01 UTC 2023
Total time taken to generate the page: 0.10111 seconds